The magic of Christmas
The magic of Christmas
12 December 2016 (by admin)
Visit from author Matt Haig and illustrator Chris Mould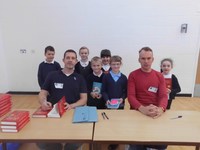 The magic of Christmas arrived early at Hexthorpe Primary School this year with a visit from author Matt Haig and illustrator Chris Mould to launch their brilliant new book 'The Girl Who Saved Christmas', the follow-up to last year's smash hit 'A Boy Called Christmas' (voiced on audiobook by Stephen Fry and now being made into a Hollywood film).
We were delighted to welcome Matt and Chris to get the first look at the new title on the day of its release.
Our school played host to seven other schools for a morning of fun and excitement. The event gave a brilliant insight into the process of creating an illustrated book and encouraged more than a few readers...
"Children who don't often read are already borrowing the books from the library and loving them!" said Miss Beaumont.
"Brilliant - the children loved it. At least 1 of them now thinking of being an author" said a visiting teacher from Saltersgate School.