Hexthorpe Primary School Councillors get Spring Cleaning!
Hexthorpe Primary School Councillors get Spring Cleaning!
6 March 2017 (by admin)
Nationwide campaign to Keep Britain Tidy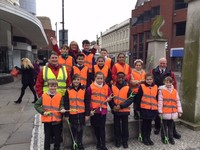 On Friday 3rd March, Mrs Radford, Mrs Kaur and 13 school councillors from key stage 2 took part in a Nationwide campaign to Keep Britain Tidy called The Great British Spring Clean. The school councillors were given all of the appropriate equipment: gloves to keep their hands germ free; a litter picker and a bag to put it all in. In three teams, the challenge was on. Our school councillors were accompanied by a local Police Community Officer, DMBC Town Centre Management staff and McDonald's staff.
All teams thoroughly enjoyed the challenge and overall we picked 300 pieces of litter in 15 minutes! We found out that if the council had issued a fine for all that litter they would have received over £2000 in fines – you can be fined £80 every time you drop litter!
The Doncaster Team also gave us extra information about our recycling in Doncaster and how we are leading the way in recycling as much as we can. We were also given gifts to remember our day and for those we were extremely grateful – they were recycled pencil cases, pencils, sharpeners and pads. In addition, Dave Wilkinson, who was part of organising the local campaign, promised that he would send us our own litter pickers so that we can continue to make a difference in our local areas. So watch out for us litter picking later in the year! Maybe you could come and help us!
School Council