Let's get reading!!
Let's get reading!!
8 March 2017 (by admin)
World Book Day 7th March 2017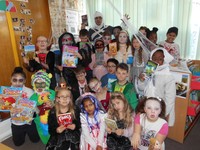 Hexthorpe Primary Academy celebrated World Book Day in style this year as pupils and staff dressed up as characters from a variety of books. To celebrate World Book Day, we planned a week full of activities to promote a love of reading amongst the students. Each year group focussed on a particular author and their works and the children dressed up as a character from their chosen year groups.
The authors included: Julia Donaldon, Michael Foreman, Christina Balit, Tommy Donbavand, Colin Dann, david Solomons and JK Rowling
The pupils and staff worked enthusiastically throughout the week, participating in a number of activities that encouraged imagination, creativity and writing skills. On World Book Day we had a special performance from our very own author and teacher Phil Sheppard who read some of his own stories. The children (and staff) couldn't stop laughing! We even had a competition for best costumes in each year group, with the winners receiving an early Easter egg!
Look at our wonderful photos of staff and pupils embracing the spirit of World Book Day by dressing up as different story characters.
Overall the week was a huge success and enjoyed by all. Can we top it next year? Well you'll just have to wait and see!