Local history marvel brought to life at Hexthorpe
Local history marvel brought to life at Hexthorpe
14 March 2017 (by admin)
Year 4 children have been learning about local history marvel 'The Sand House' with help from author and local historian Richard Bell.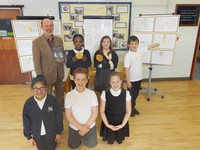 The Sand House was located just over the road from Hexthorpe. It was a mansion that was carved into the walls of a sandstone quarry. Nearby sandstone tunnels twisted and turned under the streets of Balby, featuring 3-metre statues, again carved into the sandstone walls themselves. These included the 'elephant and mahout', a clown and an old lady called Biddy. Take a look here to find out more: www.thesandhouse.org.uk/gallery/ .
Richard Bell is the great grandson of Henry Senior, the Victorian businessman who made the Sand House. Unfortunately, this Victorian marvel is no longer there - it was filled in the the 1980s to make way for a block of flats.
Richard Bell visited Year 4 to tell them all about this fascinating part of history as the 'Sparkling Start' to the children's work on underground discoveries. He returned weeks later for the 'Fabulous Finish' in which children read out their work, performed their talk story and exhibited artwork such as clay models of some of the Sand House's most famous statues.
Richard said that he was very impressed with the children's creativity and the detail in which they described their journeys into the sand tunnels and the cloisters beneath.