FS2 Visit to Yorkshire Wildlife Park
FS2 Visit to Yorkshire Wildlife Park
14 March 2017 (by admin)
Foundation Stage 2 had a wonderful day visiting Yorkshire Wildlife Park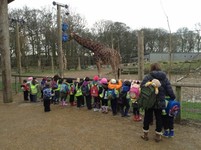 All of us in Foundation Stage 2 had a wonderful day out visiting all the fascinating animals that were at Yorkshire Wildlife Park.
We saw fierce lions prowling around in Lion country, extremely tall necked Giraffes and even spotted some Meerkats!
We also got to have some very close encounters with wallaby's, humongous polar bears and ferocious tigers!
Not only did we find out what these interesting animals eat but also where they like to live! It was all very exciting for us!