Rob Biddulph Visit
Rob Biddulph Visit
3 April 2017 (by admin)
One of the UK's leading authors and illustrators, Rob Biddulph, inspired Hexthorpe Primary Academy with his stories and illustrations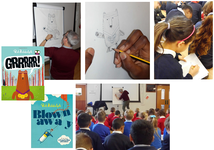 Last Friday, one of the UK's leading authors and illustrators, Rob Biddulph, inspired Hexthorpe Primary Academy with his stories and illustrations.
Rob read his book 'Grrrr!' and introduced his new story 'Sunk!' to the children. He also talked about how he became an illustrator and led the children in creating their own fantastic illustrations.
The visit has really given literacy a boost in school, with many children now reporting that they would like to be authors and illustrators when they grow up. Others bought books and were treated to personalised signatures and cartoons drawn by the man himself.
Other schools visited us to take part in the event. Rob commented that he was very impressed with our children's enthusiasm and politeness, as well as their fantastic illustrations. Well done everyone!